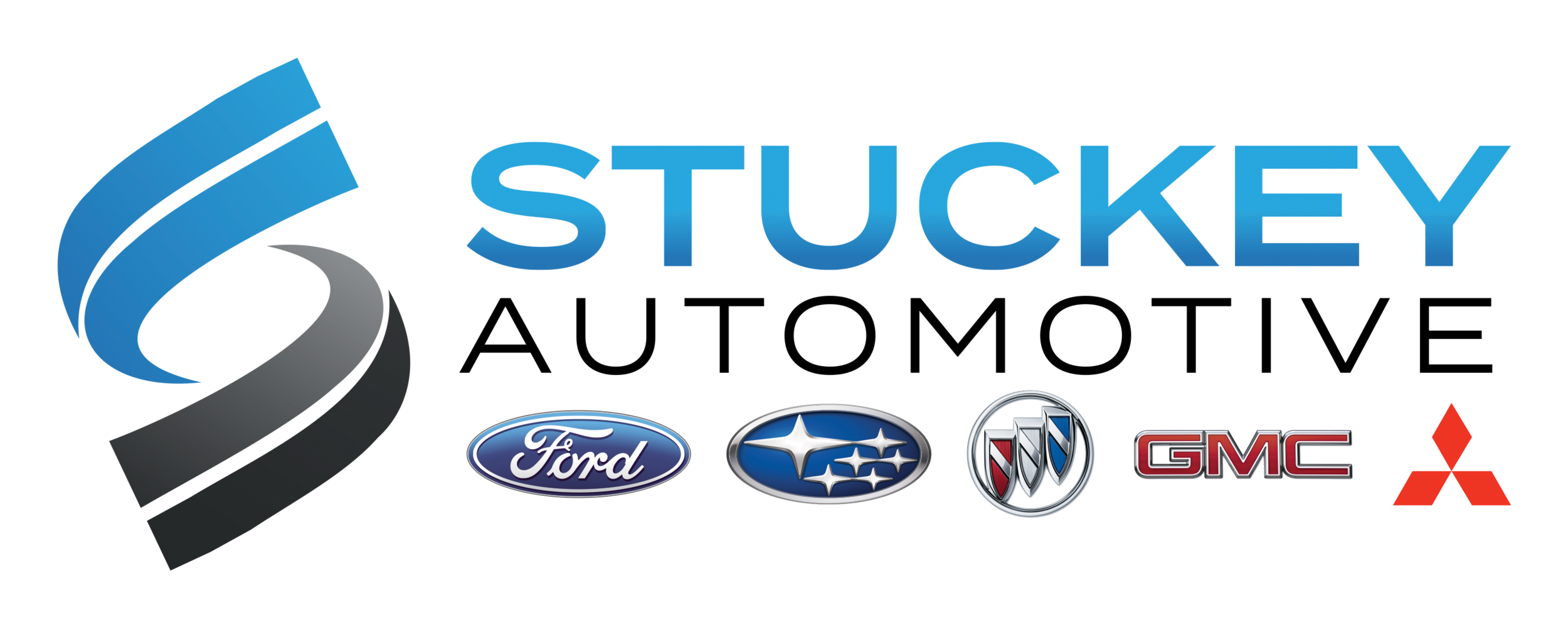 The history of Stuckey Automotive pre-dates World War II.  It began with the Replogle Motor Company. This was one of several dealerships owned by Fred Beasley from Athens, Ohio. His nephew, Jack Beasley, owned Jack Beasley Ford on Margaret Avenue in Altoona. 

Replogle Motor Company was located on the corner of Juniata and Allegheny Streets in Hollidaysburg, Pennsylvania. It owed its success to the Ford farm implement business. Our only fifty year employee, Lloyd Forshey, transferred to work there from Jack Beasley Ford, Altoona, in 1945 to organize a Parts Department. Lloyd remembers selling a "towmotor" to the U.S. Army Air Force to pull airplanes as part of the war effort.

Replogle Motors relocated to the current Stuckey Ford site in 1950, after construction of the Ford Tractor building. The automobile building was constructed by the following year. Because of its size and rural setting, those in the automobile business considered the two-building facility a "white elephant".

My grandfather, Will Stuckey, visited the mechanics at Replogle Motor Company frequently in the early 1950's to sell them Knapp work shoes, an activity he did on the side to supplement his railroad job. In 1953 the bookkeeper, Delores Edmundson, took a maternity leave and Will was hired to do the bookkeeping. Will sold his first car while still a bookkeeper, on the first day of deer season in 1955 (no one else was around because, of course, "no one" buys cars on the first day of deer season!).

Mr. Replogle died suddenly in 1956, and the owner, Mr. Beasley, "threw the keys" at my granddad, as he liked to say. He worked night and day. Their home was right behind the dealership on Lincoln Avenue. The dealership phone would ring directly in to their house after business hours! In 1957 my grandfather and grandmother (Barbara) traveled to Athens, Ohio, to ask Mr. Beasley for an opportunity to purchase Replogle Motor Company. That same year they sold their nice brick house, furniture and all, so they could have the needed cash (50%) to buy the Beasley assets. Will Stuckey Ford was incorporated in 1959.
Will grew the business through vision and unrelenting hard work. He won many sales and service awards. In 1971 my grandfather bought the adjoining Esso Gas Station and house from Woodrow Smith. He built a new building next door to start Holiday Wheels, a Yamaha Motorcycle business. This was later closed in favor of a dedicated Ford truck sales and service effort soon to follow in 1974.

My father, John Stuckey, was first employed in the car wash bay as a twelve year old in 1965. He vividly remembers cleaning all those red-hot Mustangs for delivery! In 1973 Grandpa brought a talented sales manager from Jack Beasley Ford into the business, Cody Emes.  My Dad was then a sophomore at Wheaton College in the Chicago area with no plans to return to the Hollidaysburg area.

In 1976 after my Dad graduated from college and worked in the Chicago area for a year, he returned to sell trucks in the newly opened truck sales and service operation. The business was growing rapidly with Cody's promotional and sales abilities. Here, he fell in love with the business and was able to grow in sales and management experience until 1986 when he had the opportunity to become the general manager of what was then Stuckey-Emes Ford. This same year we were able to purchase five acres adjoining the dealership on the west from our neighbor, Paul S. Vipond. This area now comprises our Ford sales and service facility. Also that year Cody had an opportunity to buy his own dealership in the Pittsburgh area. In September 1987 John purchased Cody's interest in Stuckey-Emes Ford, soon to become John Stuckey Ford.

June 7, 1988, my grandfather went to be with his Lord very suddenly at the age of 60.  I was only eight years of age at the time, but have many fond memories of getting the mail and spending time with him on Saturday mornings. 

In April of 1988 we opened an expansion of our truck repair facility and, in 1991, we enlarged and upgraded our collision repair facility to pursue the changes coming in the direct repair insurance industry. Investment in technical equipment/training and our focus on customer satisfaction have given us a growing and loyal clientele. Ford Motor Company has recognized John Stuckey Ford with their President's Award and North American Customer Excellence Award.

In February of 2003, I, Matthew Stuckey, returned to the area to join the sales team. I graduated from Messiah College and worked for M&T bank in the Harrisburg area for almost two years.  In 2005 we became a Ford Business Preferred Network Dealer, which allowed us to better serve our growing business and commercial/fleet customers.

In November of 2006, we had the opportunity to take on the Subaru franchise from Condrin Subaru in Altoona.  That same year, we simplified the dealership names to Stuckey Ford and Stuckey Subaru.  The new Stuckey Subaru achieved Subaru's most coveted award for customer satisfaction, the Stellar Performer Award, an honor we have maintained ever since.     

In 2012 we added a second paint booth to our collision repair facility, and expanded our parking lot by another acre.  

In January of 2014, we broke ground on a major expansion of our Ford building.  The new Stuckey Ford building is 25,000 square feet, houses 19 service bays, a 4-car showroom, two drive up service lanes, and expanded customer facilities.  We completed significant renovations to the Subaru showroom and service facility in 2015.     
Just 12 years after we became a Subaru dealer, we were presented with a similar opportunity in 2018 to acquire Fiore Buick GMC in Altoona.  Later that year, Stuckey Ford, Stuckey Subaru, and Stuckey Buick GMC became Stuckey Automotive. 
The year of 2020, despite the pandemic, proved to be an extraordinary year for our team.  At the start of the year, we opened the Stuckey Automotive Collision Center and Headquarters the former F.L. Smithe building in Duncansville.  The facility houses our administrative offices and a 110,000 square-foot, state-of-the-art collision center equipped to repair complex vehicles at a high level.  Adjacent to our Headquarters is our new Stuckey Ford Commercial Truck Service Center, complete with five lifts, a tire center and new equipment for diagnostic services.   
In July of 2020, we expanded our services into Centre County, PA.  The Stuckey Mitsubishi sales center opened at the former Maggi Mitsubishi location at 273 Benner Pike.  The Stuckey Mitsubishi Service & Parts Center is located on nearby Shiloh Road, behind the Nittany Mall.  The move afforded us an opportunity to serve the Mitsubishi markets of central and northern Pennsylvania.  
Today, with nearly 300 employees strong, we remain committed to our promise to delivery exemplary service to those in Central Pennsylvania.  
Stuckey Automotive - we're here for every mile.